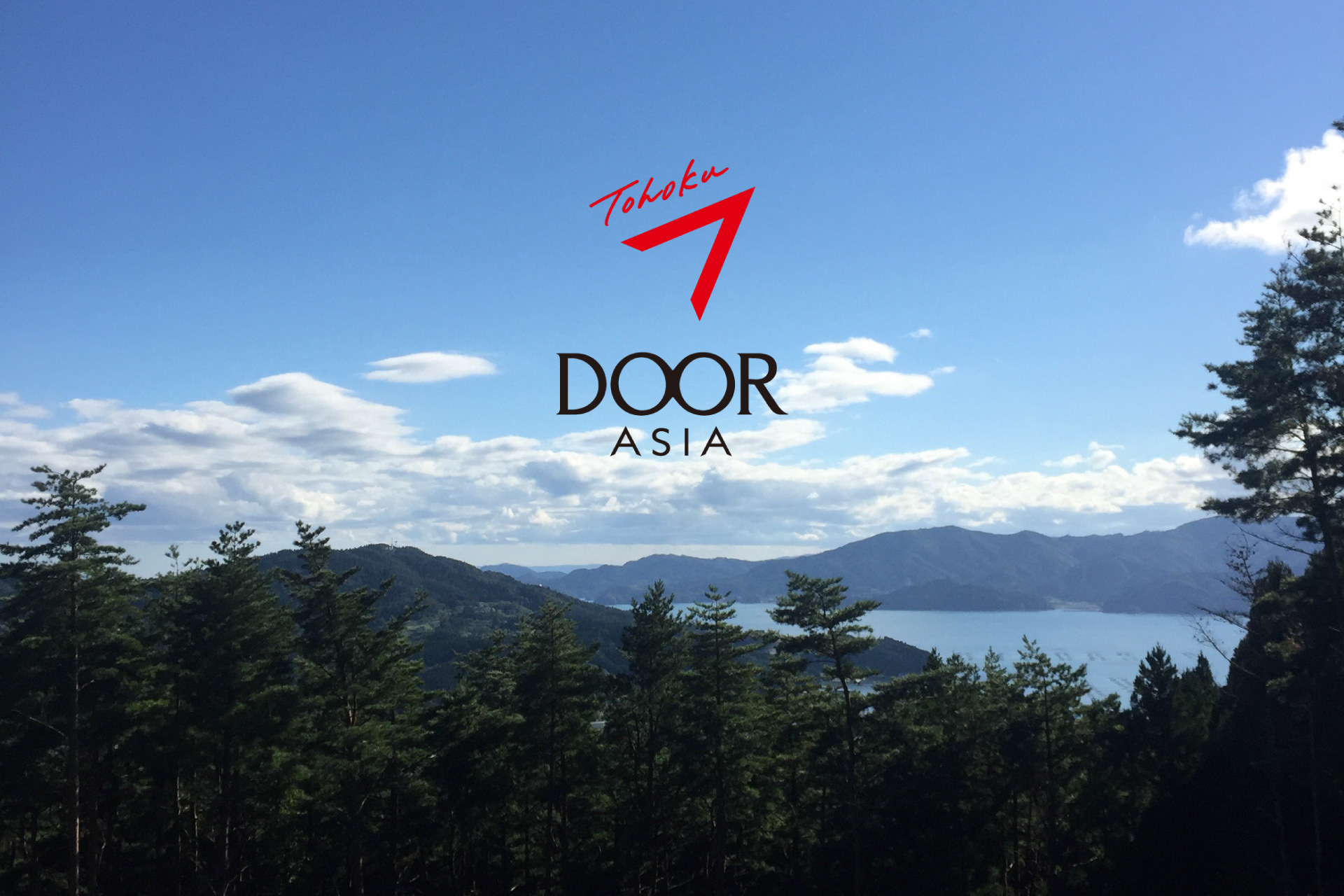 DOOR to ASIA 2016: Saikichi Shoten
DOOR to ASIA is a Designers Residency program by Japan Foundation where 8 selected designers from each Asian country gather to improve local businesses affected by the 2011 Tohoku earthquake and tsunami through Design.
As the Singapore representative, we were assigned to work closely with Saikichi Shoten, a seafood processing company that has a rich history of 95 years, located in Kesennuma city of Miyagi Prefecture. Saikichi Shoten has been passing down the local Tohoku culinary culture using the abundant marine resources available in the seas of Kesennuma.
We immerse ourselves into their world in a 3 day home stay, understanding their products and company's philosophy. Saikichi Shoten wishes not only to promote their products to overseas markets, but also to promote Tohoku region. With that in mind, we took a 3-prong approach to develop a design solution that could aid them — Local Recipe Book, Packaging Design, and Packaging Design System. The following design proposition was done in 3 days.
The 3 brand pillars that govern the family owned business.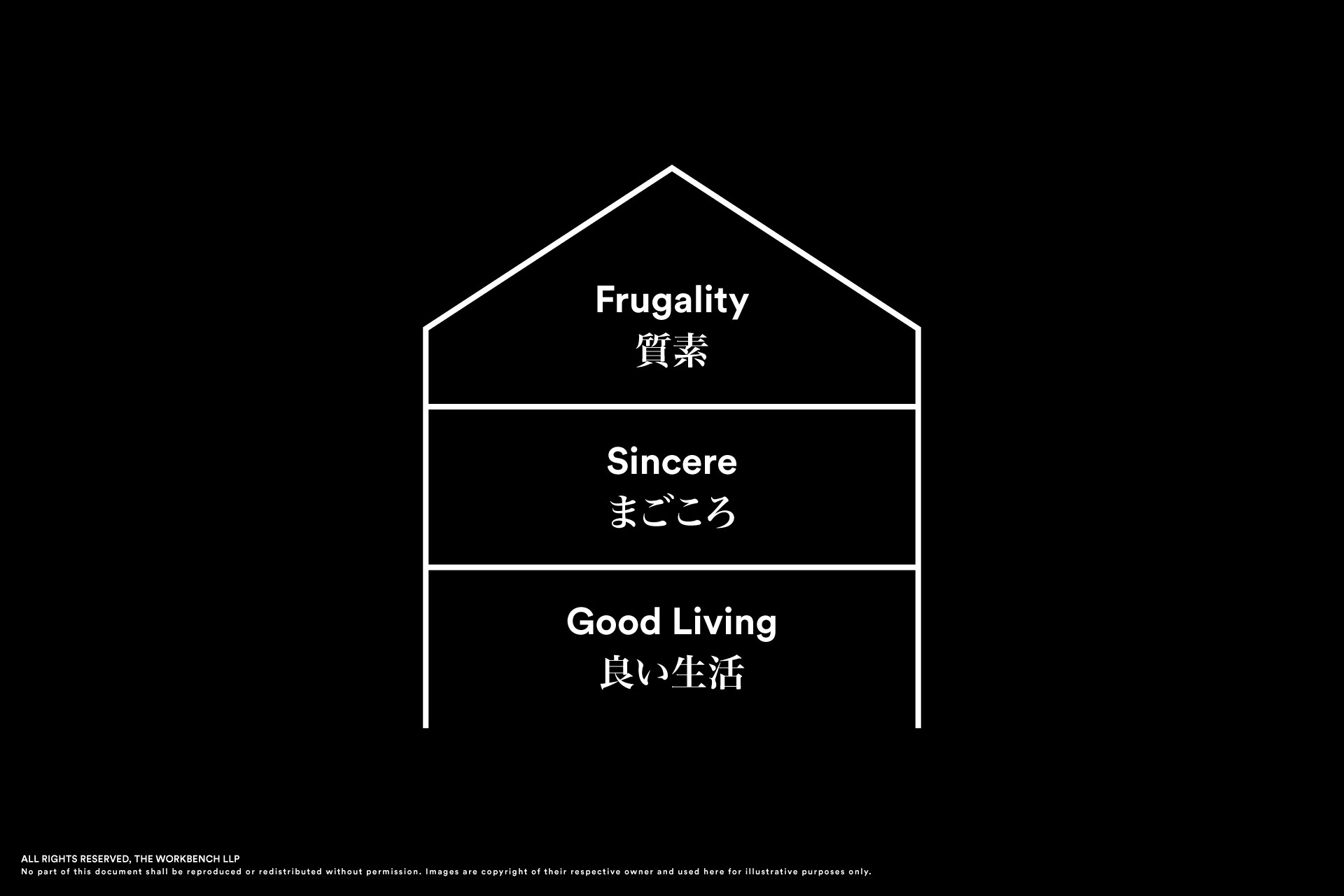 The beauty of Saikichi Shoten products is their ability to customise and adapt to different tastes and likings, catering to a wide variety of audiences and unique possibilities.

斉吉商店が扱っている商品の素晴らしさはカスタマイズし、好みに合わせることができることです。様々な消費者に適応し、独自の可能性を秘めています。

To introduce Saikichi Shoten products for Singapore and overseas markets, the fastest approach to gain acceptance is through adapting their products to local taste.

斉吉商店の商品をシンガポールほか、海外マーケットに展開するもっとも最適な方法は、その土地土地の好みに味を調整することです。
The recipe book is created by locals, for the locals. This booklet aims to inspire other locals to buy Saikichi Shoten products and give it their own unique local twist with local ingredients.

その土地の人が、その土地の人のために向けのレシピ本を作ることによって、その土地の人が地場の食材を使用して、土地の人が好む味付けとなり斉吉商店の購入することを促します。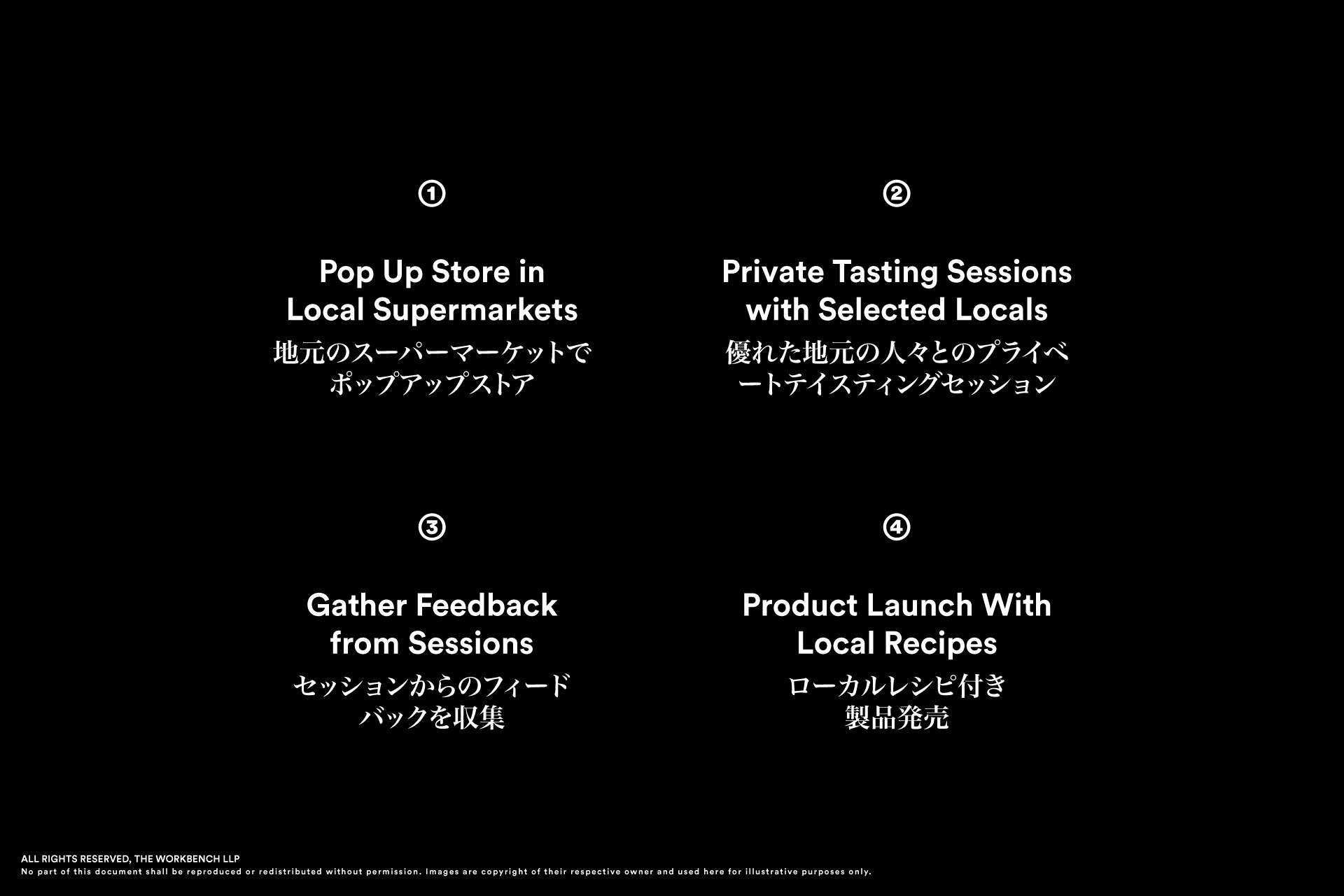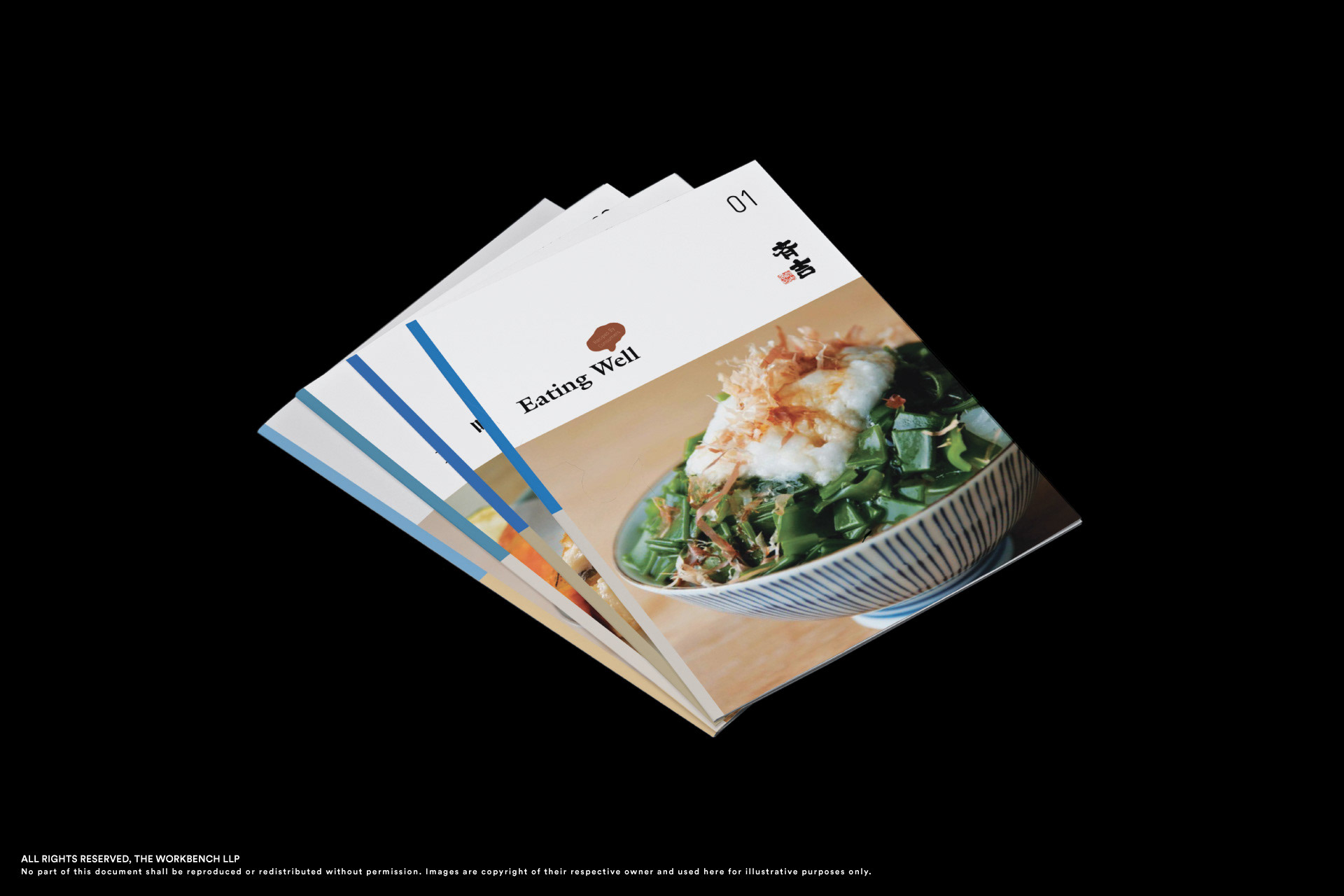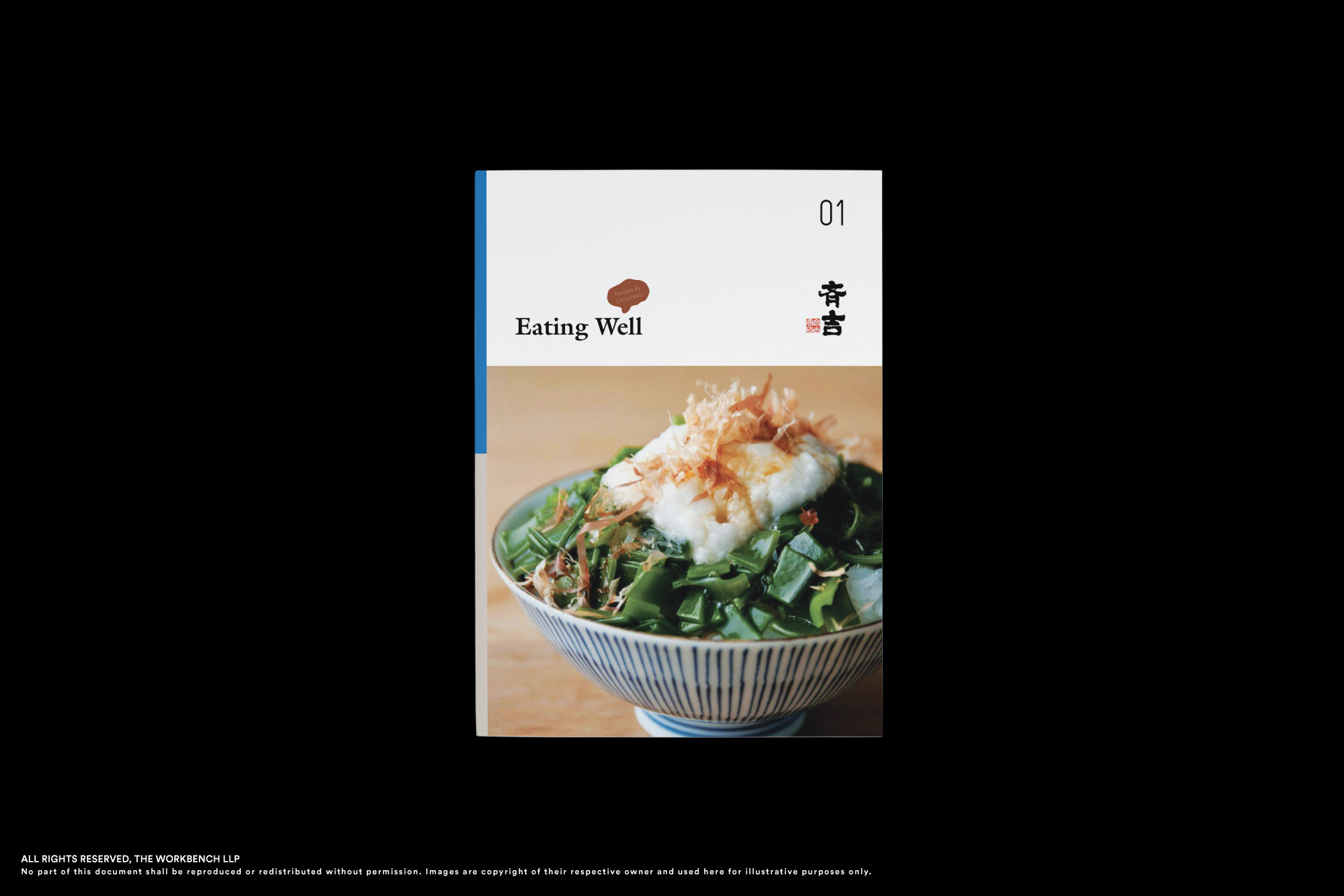 To differentiate the origin country of the recipe books, a colour blocking system was invented, inspired and colour picked from the sea and land of the different origin countries.

レシピ本の背表紙に使用している2色はそれぞれの国の海と土地(土)の色から抽出している。このカラー ブロッキング システムによってレシピ本の該当国を区別することができます。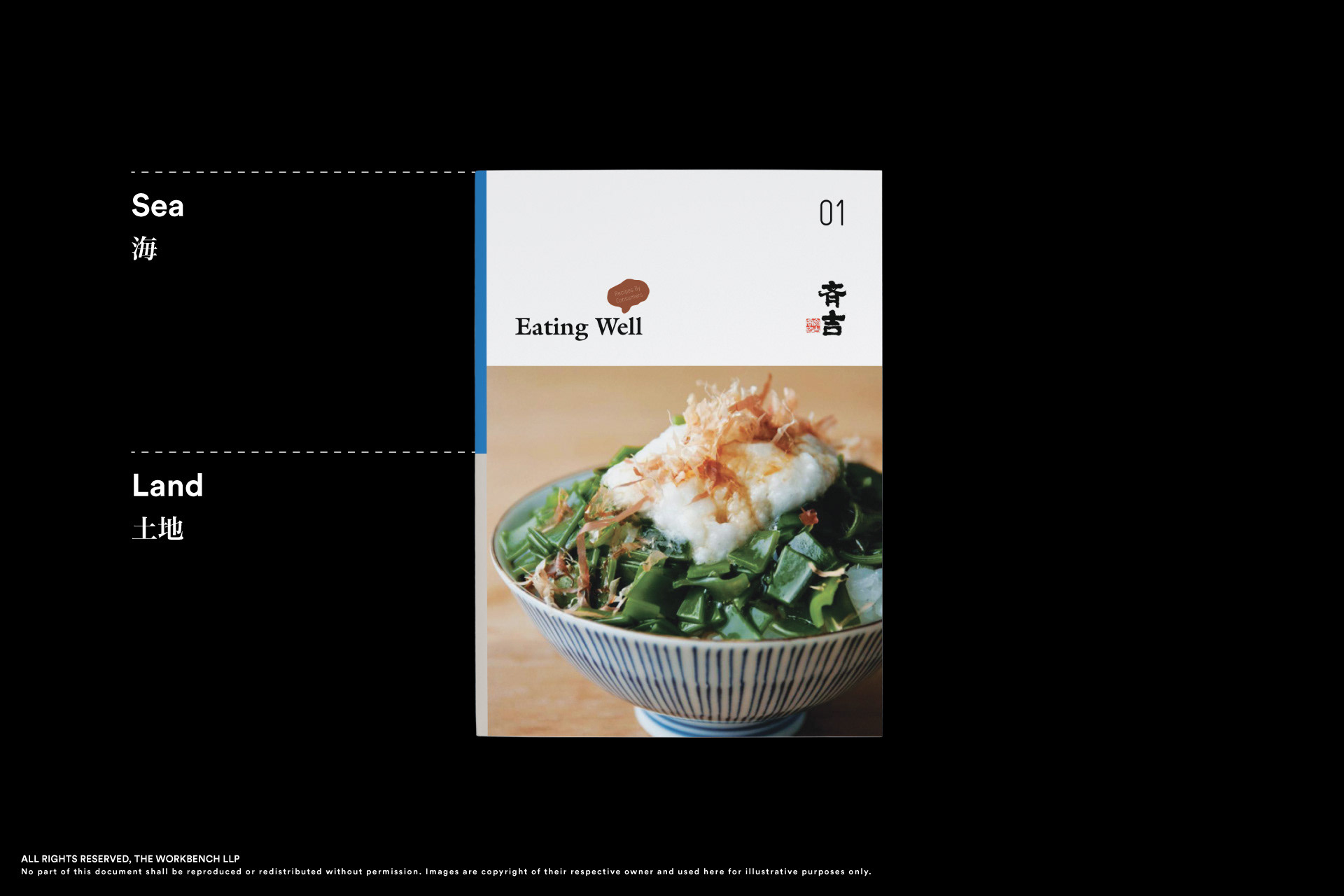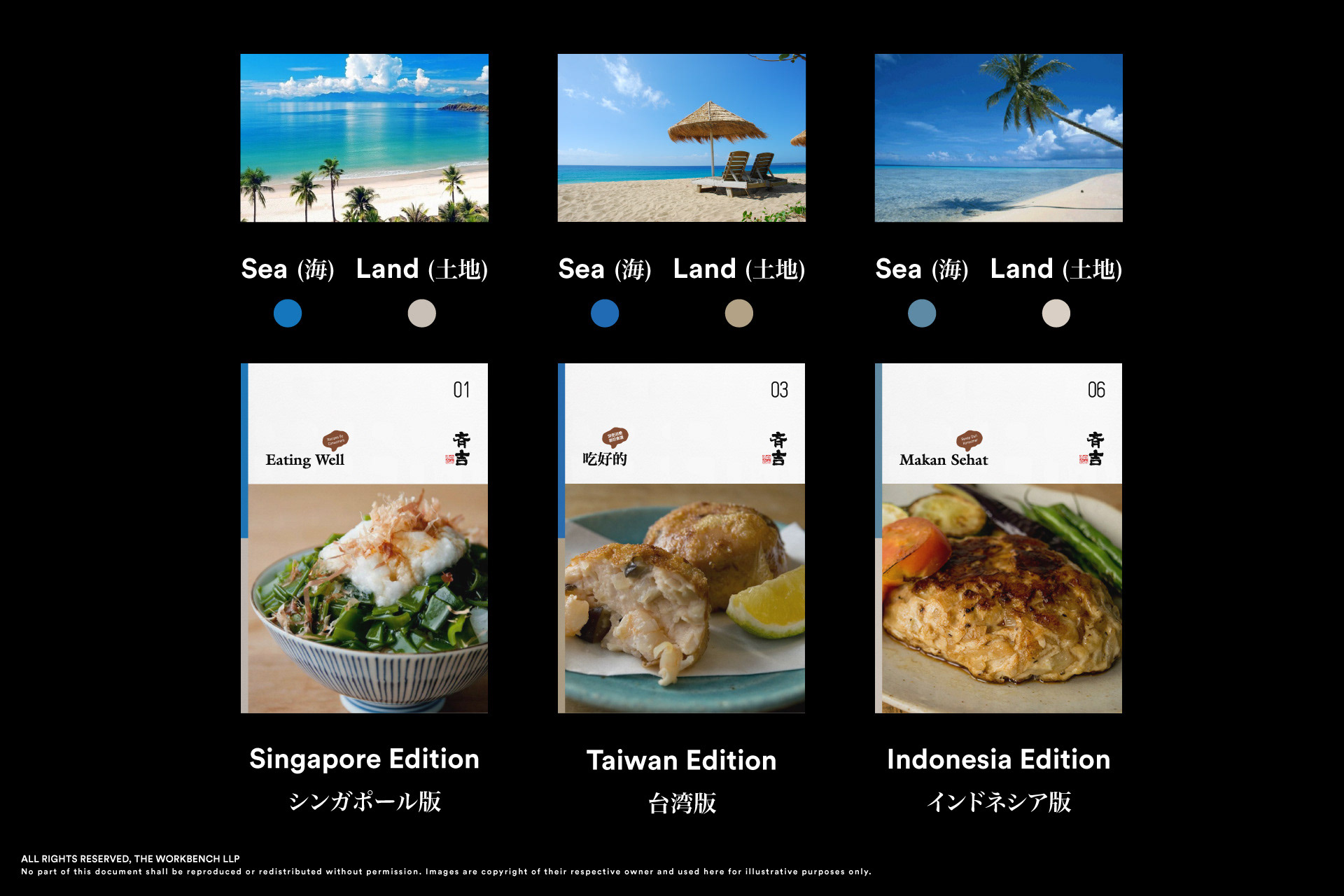 When the books are placed together, the colours combine to form an undulating wave of sea and land, coming together as one united world.

各国のレシピ本を並べると、海と土の配色が緩やかに合わさります。これシリーズが揃っていくことで世界がひとつであることを示しています。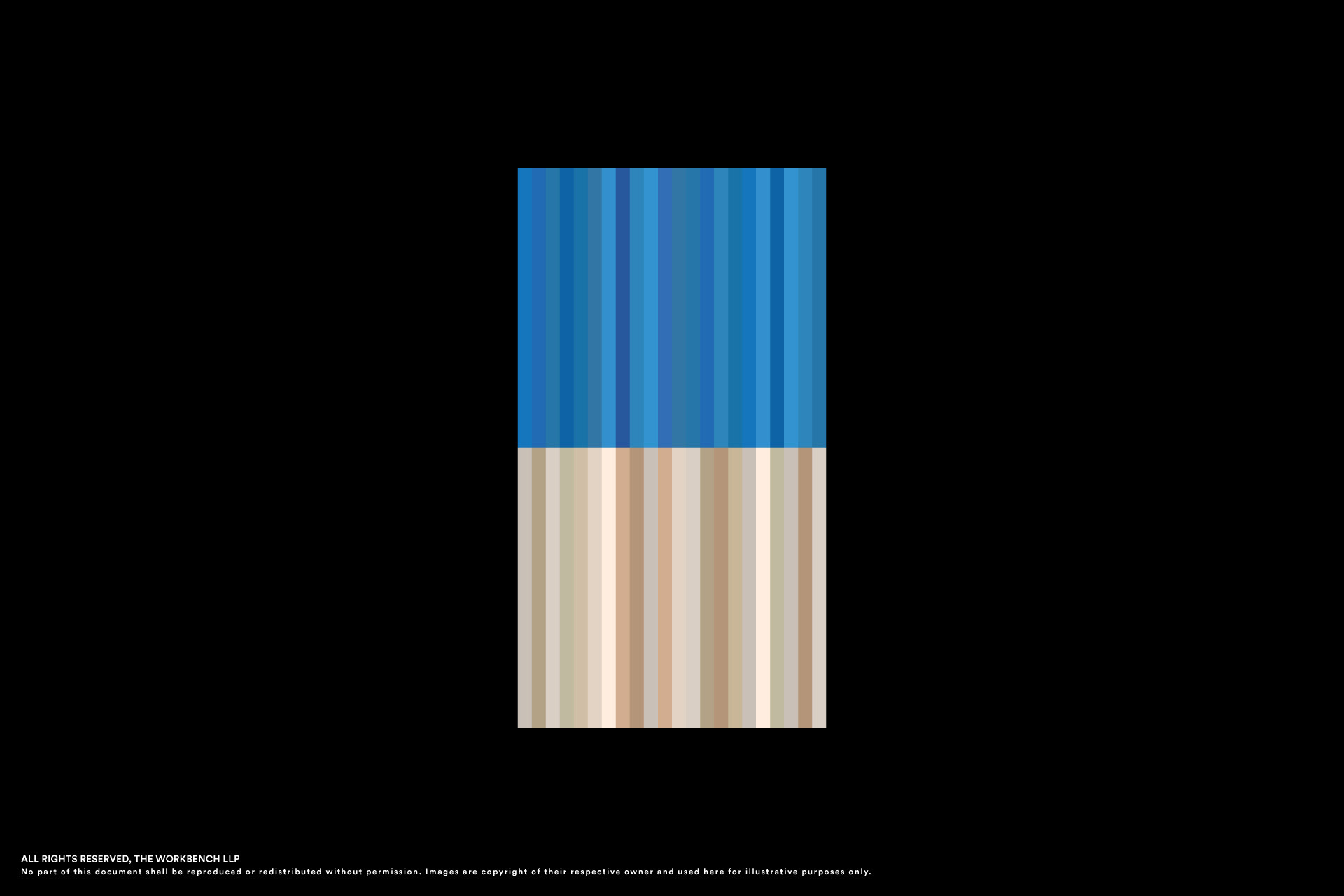 Storytelling Through Packaging
Besides just selling their products, the owners at Saikichi Shoten aims to become a lifestyle and culture business, promoting Tohoku.

オーナーの斉吉商店は商品を売るということばかりではなく、東北のライフスタイルや文化を紹介することを目指しています。

Having been around in Tohoku for the past 95 years, the Saikichi Shoten family must have many stories to tell and share about Tohoku.

東北で95年以上の歴史を持つ斉吉商店は共有すべきたくさんの東北の物語をお持ちです。
To share Saikichi Shoten's stories and promote Tohoku's culture and lifestyle through their products, their stories are consolidated into visuals and various packaging designs.

斉吉商店の物語と東北の文化と生活を商品によって知ってもらうために、その物語をビジュアルと様々なパッケージデザインに落とし込むことが重要です。
As some of the family members have Arts background, it is only appropriate that they be the ones to do the visual storytelling through their own artworks and perspective.

美術のバックグラウンドを持つ家族がいらっしゃるので、作品を描いてもらいその視点をもって、商品の物語を視覚的に伝えるのがもっとも適した方法ではないかと思います。
Reversible Furoshiki Gift Wrap
The furoshiki gift wrap features a reversible design, sharing 2 different stories in a single furoshiki — Tohoku story and product story.

この風呂敷は両面にデザインを施し、1枚で2つの異なるストーリーを伝えることができます — 東北ストーリー、製品ストーリー。

Carrying on the key touchpoints of sincerity, the furoshiki is hand printed by silkscreen to give a fitting ending to the all handmade process of Saikichi Shoten's products.

斉吉商店の「まごころ」を伝えるために風呂敷はシルクスクリーンで手で擦っていきます。それは斉吉商店商品が丁寧な手仕事を連想させるためです。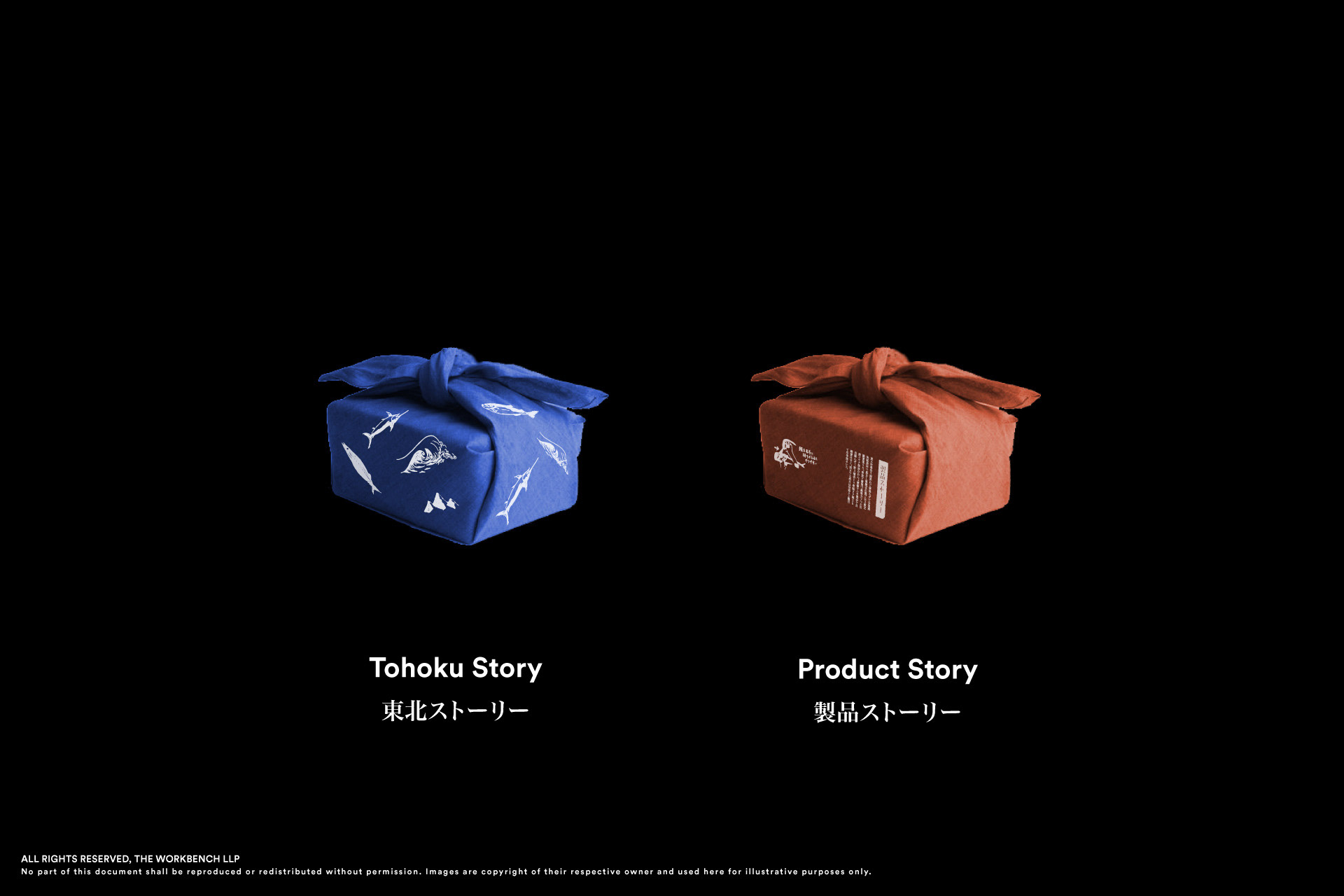 Greater Brand Recognition
The furoshiki can be unwrapped and turned into a wall art poster, reminding people of their stories.

風呂敷を解くとウォールアートポスターとなり、お客さんに斉吉商店の物語を思い出させることができます。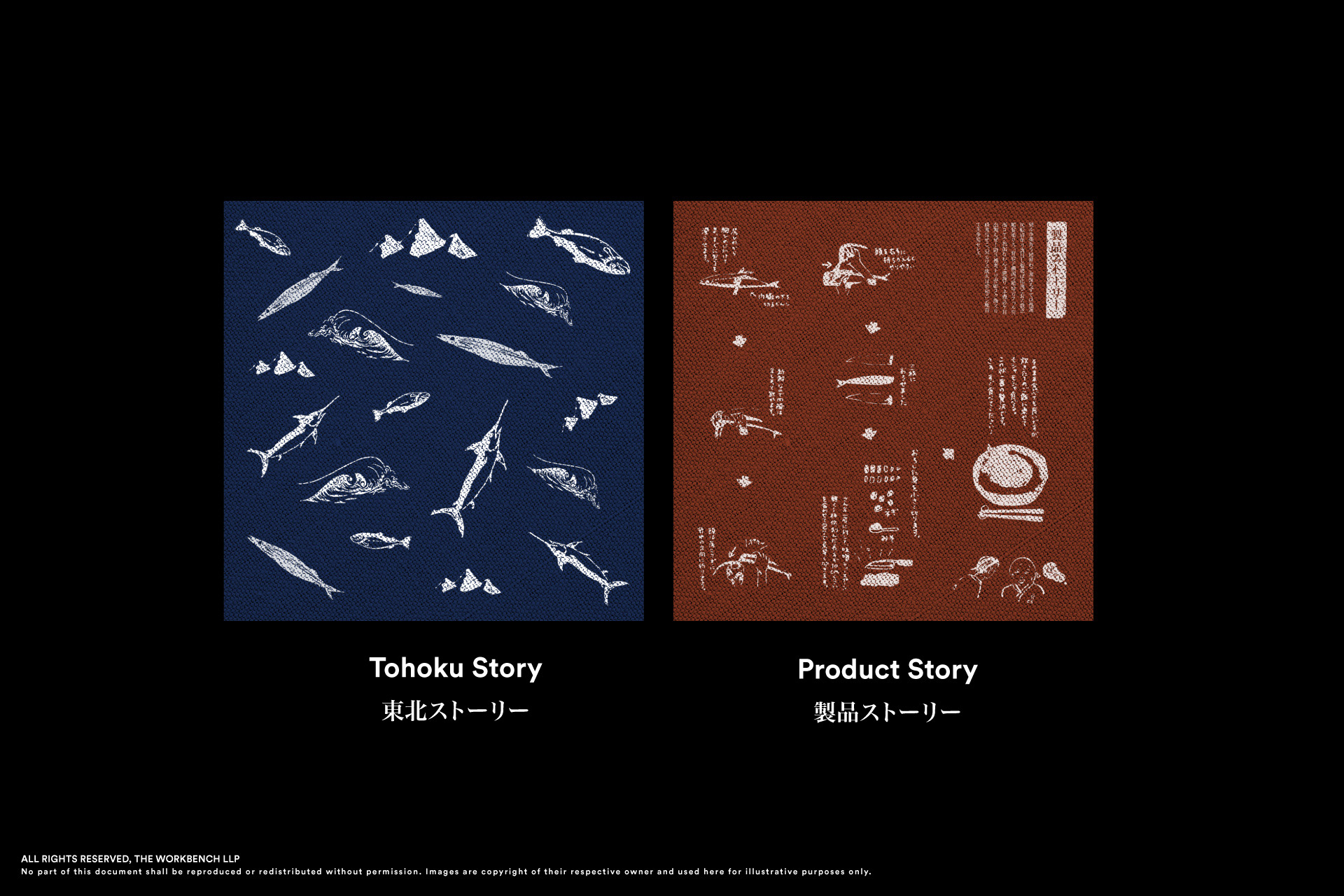 The paper bag features visual elements of Kesennuma such as the mountain, S–coast, etc.

紙袋には「山」、「リアス式海岸」など気仙沼の特徴を印刷します。

If the family is willing, they can share the paper bags with the surrounding local businesses as well, creating a greater brand recognition to the region when customers are seen carrying it on the streets.

もし斉吉商店さんが望まれるなら、この紙袋のデザインを他の気仙沼の事業者の方々にも共有していただき、それをお客様が使用することによって、同地域を知ってもらう地域ブランディングとしても機能します。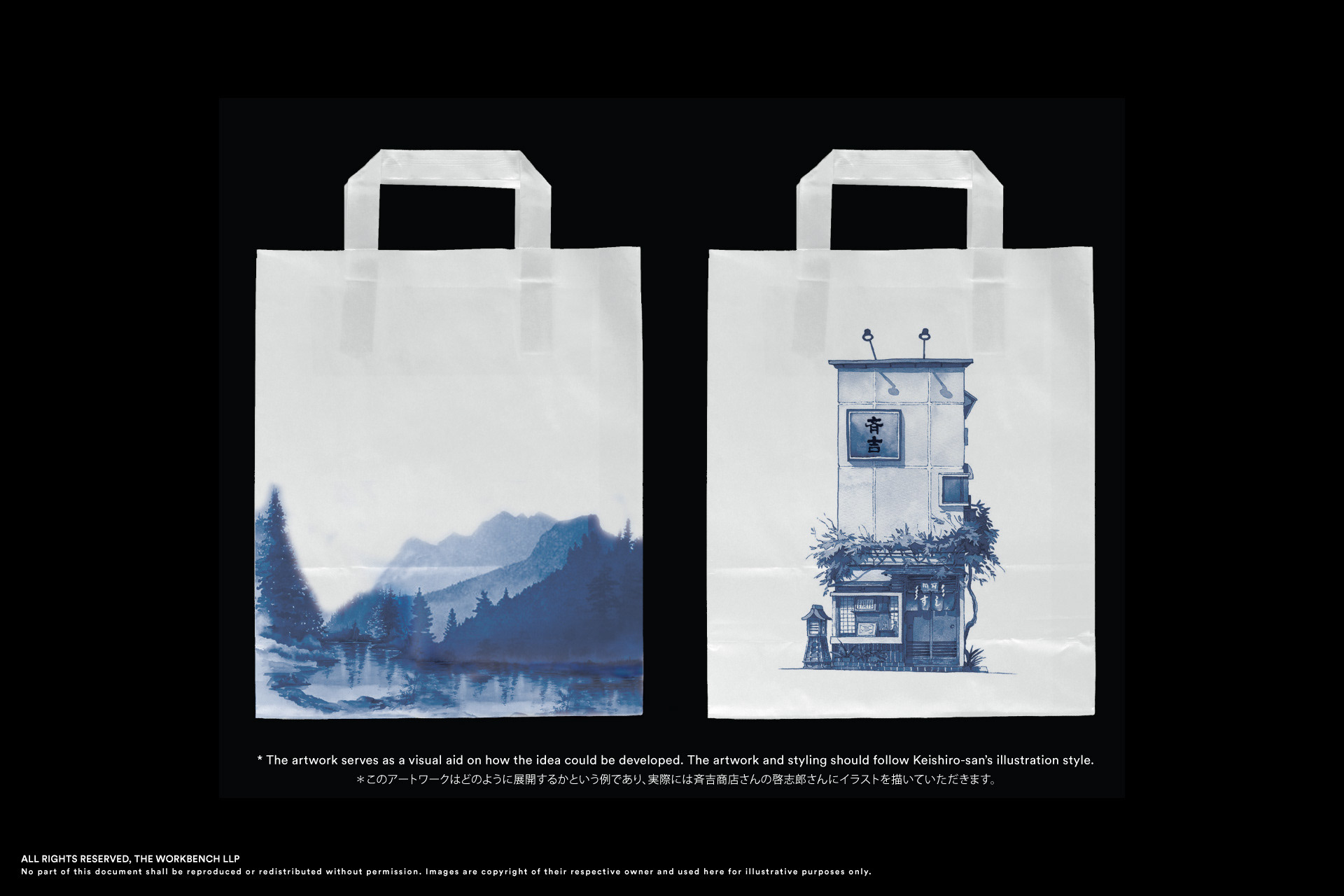 A Picture Speaks A Thousand Words
Saikichi Shoten intends to design and produce their own packaging labels in the future instead of hiring an agency with every new product.

将来的に斉吉商店の商品を発表する際に、デザイン会社に依頼することなく、自社でパッケージラベルをデザインを行う。

A design system is devised to allow them to independently create future packaging labels that are ready for overseas markets.

設計システムとして、海外輸出に備え自社でパッケージラベルを製作を行う。
"A Picture Speaks A Thousand Words" — Visuals will take main precedence on front of all packagings, allowing consumers to identify the product contents immediatedly. Description and other contents will be placed at the back of the packaging.

「絵は千の言葉を語る」 ビジュアルはパッケージデザインの中でも最重要で、消費者に商品の中身を即座に伝えることができます。説明と内容物に関してはパッケージの背面に配置します。
When placed on product shelves, Saikichi Shoten products immediatedly stand out amongst the crowd of products with eye-catching and layman visuals.

斉吉商店の商品が棚に置かれた時、シンプルなデザインにすることで他の商品より目立つようなアイキャチなビジアルとします。